Which video format is supported by iPhone
Advanced digital iPhone video format make it harder to play videos and share iPhone recordings on the iPhone. To avoid confusion for unfortunate iPhone users, we list below how to deal with detailed iPhone compatible video formats and compatible formats, according to Apple's official statement.
iPhone Playback Video:
– Motion JPEG (M-JPEG) up to 35 Mbps, 1280 by 720 pixels, 30 frames per second, audio in ulaw, PCM stereo audio in .avi file format.
– H.264 video up to 1080P, 60 frames per second, High Profile level 4.2 with AAC-LC audio up to 160 Kbps, 48kHz, stereo audio in .m4v, .mp4, and .mov file formats;
– MPEG-4 video up to 2.5 Mbps, 640 by 480 pixels, 30 frames per second, Simple Profile with AAC-LC audio up to 160 Kbps per channel, 48kHz, stereo audio in .m4v, .mp4, and .mov file formats;
iPhone Camera Format:
H.264 QuickTime files in the MOV format of 80 – 1080P 30fps are the default recording format for iPhone. Slow-mo videos can be recorded at 720p at 240fps or 1080P at 120 fps.
IOS – High-Efficiency Video Coding (HEVC) under the "High Efficiency" option for all iPhones running iOS 11.
Sometimes we have trouble playing or sharing iPhone videos due to the iPhone's limited format library.
When the video is not 100% compatible, you may enter the following condition.
The answer. "Unsupported video format error" on iPhone
Some users report an error message saying "unsupported video format" when trying to play MOV videos or other compatible files on the iPhone. The extension is confusing because it is listed as one of the video formats supported by the iPhone. Let's look at why the problem occurs.
1. Incompatible codecs or new video formats
Containers instead of MOV, MP4, and AVI codecs, which may contain different codes except for H.264, H.265, MPEG-4, or M-JPEG. That's why even though the extension is listed here, iPhones have trouble playing them. Some other video formats can only be played on the latest iPhones. For example, mobile HDR 10 and Dolby Vision formats support the iPhone 8 / X, only later.
2. High resolution
HEVC is said to play on iOS 11 and all iDevices, which does not mean all resolutions. Unfortunately, older phones do not support 4K resolutions. iPhone models support 5K or higher resolutions. For example: iPhone 6, iPhone 6 Plus – 1080p / 240 fps maximum resolution; iPhone 5S – 1080p / 60 fps or 720p / 240 fps. When you import into a high-resolution iPhone, it drops to 2K and you may still have playback interruptions.
3. The video is corrupted
In most cases, an "unsupported video format" error occurs on the iPhone when the imported video is corrupted. Although the iPhone is a popular tool for storing movies and videos offline for users to watch without the Internet, not all downloaded videos can play on the iPhone, especially those downloaded from unreliable sources. Because the video file is also broken or corrupted. In addition to online files, inappropriate content transfer to the iPhone or other application conflicts can lead to corrupted files.
B. The recorded iPhone will not be shared
Many other users have trouble sending or uploading videos recorded on the iPhone XS / XR / X / 8/7. It's basically two things.
1. iPhone videos are too big
4K and HD videos are also very large in HEVC format. In contrast, most social media and email services have strict video size restrictions. For example, at 4K 30fps a minute iPhone video takes 300MB, WhatsApp only allows 16MB. Then you need to resize the iPhone video size.
2. Limited compatibility of HIV
Adding HEVC as an iPhone recording video format is a welcome step, as it saves half the size of the H264 while maintaining the same video quality. However, patent royalty requirements limit the prevalence of HIV. Learn what to do when the iPhone refuses to play MOV videos on the Mac.
How to change camera layout for videos and photos in iPhone & iPad
Do you have less storage or important data for your phone? You can have a lot of storage, but import photos and videos into devices that do not support HEIF or HEVC.
Fortunately, your iPhone has an option to change the format of taking photos and recording videos.
How to change camera layout for videos and photos
1. Open Settings> Camera> Formats.
2. Under Camera Capture, you have two options: high capacity or very suitable. Tap what you want to use.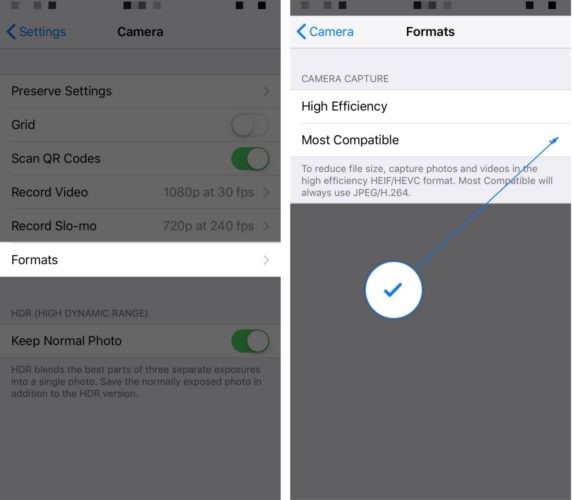 HEIF and HEVC use high performance for your photos and videos. These take up less space but are not compatible with older devices. The standard JPEG / H.264 formats used are very suitable.