How to Delete Multiple Contacts on iPhone on 2022 [Latest Tricks]
Before you learn
how to delete multiple contacts on iPhone
, you should know that iOS does not allow doing this in any simple manner. There are ways, however, to do it, and we will learn them here.
Sometimes deleting contacts is a necessity. You do not want to keep in touch with certain people or they had once been acquaintances and you have no contact with them for years. Or maybe a contact is simply outdated. Your Phonebook is full of data that you no longer need or use. The best thing to do is to clear up your Contacts to make way for new ones or simply free up memory.
However, you cannot delete multiple contacts on an iPhone easily. You have to use the various workarounds that we will discuss here as we explain
how to delete multiple contacts on iPhone
.
There are two ways to go about this. Either you will have to use the iCloud service and an accompanying PC or Mac, or you will need to install a third-party app for this purpose. Both these methods and the steps involved are given below.
Using iCloud
For this method to work, you should already have signed up for Apple's iCloud service. iCloud will automatically backup your contacts and other data and make it available across your Apple devices. iCloud also enables easy syncing of any edits or modifications that you make to your data. So if you make changes to your Contacts on any one device, it will also reflect on the other devices signed in with the same Apple ID. This method of
how to delete multiple contacts on iPhone
makes use of this feature of iCloud.
You will need to use a PC or a Mac for this and access the web version of iCloud on it. Below are the steps to follow:
Log on to iCloud.com from your computer. This method will not work if you use a mobile device.
2. Sign in to your iCloud account using your credentials.
3. Select "Contacts."
4. Press and hold the Control key on your keyboard and select the contacts you want to delete. Scroll down and keep selecting the contacts that are to be deleted.
5. Click on the Settings icon at the bottom left.
6. Select "Delete."
7. A pop-up window will ask for confirmation. Click "Delete" again.
8. The selected contacts will be deleted across all your devices including your iPhone.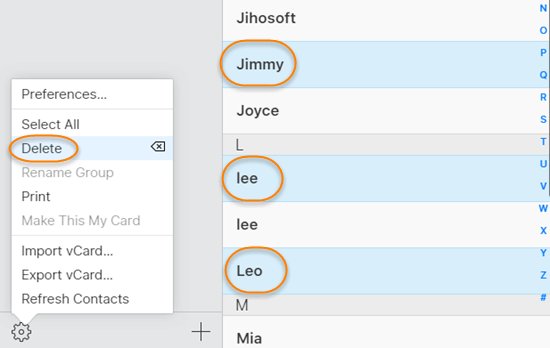 This may seem like a complicated process and you do have to make use of another computer to make it work. So if you want a simpler solution, the second method will be useful.
Using a third-party app
This is the alternative method of
how to delete multiple contacts on iPhone
which makes use of a third-party app. The app that we will discuss here is called
Groups
. It is available on the App Store. You can choose to pay and use its premium services if you want, but the basic functions are available for free. Deleting multiple contacts is one such function for which you do not need to spend any money.
Follow these steps:
Download and install the Groups app on your iPhone.
2. Open the app. Grant it access to your contacts.
3. From the list of options, select "All Contacts."
4. Your contact list will open up and you can select and mark the ones that you want to delete.
5. Go to Choose Action > Delete contacts
6. Tap "Remove from my iPhone" when prompted.
You are all set! The selected contacts will now disappear from the Contacts app on your iPhone. These contacts will also be deleted from your other devices sharing the same Apple ID.